News Archive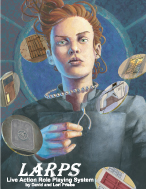 We're Published!
We have published our book! You can buy a print or PDF version of our book through CreateSpace.
Click here for ordering information.
DunDraCon 2013
Dreams of Deirdre will be running A Wedding of Veils at DunDraCon (game 271, Saturday 10 AM in 508 for 8 hours), a political fantasy LARP set in the Game of Thrones setting. Will a wedding of two minor families shift the political balance of Westeros? Play to find out! Click here for more information. Mature themes.
And our own Wendy Lo will be co-GMing a game with Logan Waterman under the moniker Machimi Games. Check out "Truce of Mospheira" on Sunday night if you know CJ Cherryh's Foreigner series, or just like a good "how to deal with aliens politely" sci-fi intrigue (Game 772, Sunday 6 PM in Salon B for 6 hours).
PacifiCon 2012
PacifiCon 2012 We will be running two games at PacifiCon this year.
"A Good Old Fashioned Seance" will be playing on Friday night. Click here for more information.
We will also be re-running our Dogs in the Vineyard LARP "Overlook Sedge". Click here for more information.
KublaCon 2012
We ran a 16-player LARP at KublaCon, set in the world of "Dogs in the Vineyard", called Overlook Sedge.
DunDraCon 2012
We will be putting on a LARP called "The Museum Job" at DunDraCon 2012, on Friday, February 17. Recommended costuming will be modern formal, but remember that while costuming is recommended, it is not required, nor is a costume a guarantee of a particular role.
February 2011
Dreams of Deirdre will be presenting Prelude, a 1937 superhero LARP set amid the tensions preceding World War II. German interest in an Egyptian tomb sparks an international gathering. Costuming recommended but not required.
July 11, 2010
Dreams of Deirdre will be presenting Pride and Baphomet, a LARP based on Clive Barker's Nightbreed, Friday night at PacifiCon 2010.
April 1, 2010
Dreams of Deirdre will be at KublaCon 2010 with Three Dragon Ante (the Call of Chult), a LARP set in Faerûn, the Forgotten Realms setting of Dungeons & Dragons. We will visit a bustling port city on the coast of Chult in this 25-person LARP.
January 21, 2010
Dreams of Deirdre will be holding a pulp science fiction LARP called "20 Million Leagues to Mars" at DunDraCon 2010 in San Ramon, on February 12. This game is a Victorian Spacefaring game, a Steampunk/Space 1889-esque offering for which we recommend Victorian Naval or traveling "adventuring" clothes.
August 22, 2009
Dreams of Deirdre will be presenting the Star Wars-themed LARP "Togatto Nights" at the 2009 PacifiCon Game Expo in Santa Clara. We know it starts no sooner than 11:30 am on Saturday, September 5, but please review the convention schedule for times, locations, and signup procedures.
"Togatto Nights" is set between episodes 1 and 2, before the Clone Wars, and will focus on the pod-racing community. Players are encouraged to dress in costume, but doing so is not a guarantee of a particular type of character. Costume recommendations include alien outfits, racing gear, or anything which a Star Wars socialite would wear to a party. Click here for more information.
January 18, 2009
Dreams of Deirdre will be putting on "Pajama Promises" at DunDraCon 2009. This is a contemporary modern horror/mystery LARP set at a remote summer camp. Pajamas encouraged but not required!
August 6, 2008
Dreams of Deirdre will be putting on "The Unholy Empire " at Pacificon Game Expo: ConQuest 2008. Costuming for this Discworld-based LARP can vary widely, so feel free to dig up your Ren Faire garb or dark, Gothic clothing! Almost anything goes in this political tour-de-force inspired by Terry Pratchett's most famous "world spinning on the back of four elephants who rest atop a giant space turtle floating through the infinite, starry void"... or something.
Click here to find out more about the game.
May 15, 2008
Dreams of Deirdre will be running "Golden Gate" at KublaCon 2008. This will be a modern supernatural LARP set in San Francisco. Costuming can vary widely, but casual attire is appropriate for many of the roles!
Click here for more information!
February 3, 2008
The page for "A 7th Sea Adventure in Three Acts" has been updated -- check the game page for when and where!
October 22, 2007
Dreams of Deirdre is pleased to announce that we will run "A 7th Sea Adventure in Three Acts" at DunDraCon 2008! Check the game page for updates.
September 15, 2007
Devon has posted his photos from the supervillain LARP "Havok!" from ConQuest SF 2007 -- to see them, click here!
We did not get the San Ramon room after all, as the hotel was in the middle of renovating that and other rooms on the first and second floors, but we were able to have a great time in spite of the sub-optimal room. Thank you to all of the players who made the game such a memorable event!
August 25, 2007
We have been notified that we will be using the San Ramon room on the second floor for our super-villain LARP "Havok!" at ConQuest SF 2007!
Also, Devon has posted his photos from the Firefly LARP "I'll Be In My Bunk" which we held at KublaCon 2007. To see them, click here!
August 12, 2007
We are gearing up for ConQuest SF 2007 and are ready to put on "Havok!," our super-villain LARP. This game will have room for 25 to 30 players! Here is the convention information.
As with other games, costuming is encouraged, though we cannot guarantee you a particular character based on your costume.
May 17, 2007
We are gearing up for KublaCon 2007 and are ready to put on "I'll Be In My Bunk," our Firefly LARP. Click here for a preview of the flyer! We'll be running our 50-person game in the big pavilion tent outside the pool area.
As with other games, costuming is encouraged, though we cannot guarantee you a particular character based on your costume. Also, be mindful of the weather: this will be an evening game. The tent should have heating available, but do make sure you have warm outerclothing just in case (remember, it's all about layers!). So dress warm, bring your stomping boots, and join us Sunday night at KublaCon for what we are certain will be a wonderful ride for everyone!
March 8, 2007
Our Changeling LARP went off quite splendidly at DunDraCon 2007 -- thank you to all of those who joined us in this exploration of the relationships between Krofted and Gladeling, Changeling and Inanimae, Seelie and Unseelie. We had a great time running the game, with only one potential heart attack as an "enthusiastic" player casually ran along a ledge (five stories from the ground!) to get to the other side of the playing area. Next convention, we add the rule "don't make a GM call 911."
Dreams of Deirdre is pleased to be running a Firefly-themed LARP called "I'll Be In My Bunk" at KublaCon 2007. Click here for more information, or check our Events page. As always, click here to be added to our mailing list. We won't send you stock recommendations or personal enhancement offers... just smooth, high-yield, low-glycemic LARPing opportunities.
February 10, 2007
Dreams of Deirdre is excited to be running the Changeling game "Song of the Slow Empires" at DunDraCon 31. Click here for more information about this LARP event, and don't forget to bring your umbrellas and imaginations!
August 7, 2006
Dreams of Deirdre will have the pleasure of running Forceful Lessons at the Penny Arcade Expo 2006 which will be held August 25th to 27th at the Meydenbauer Center in Bellevue, Washington. Check their Events page for details as they are posted. The troupe will be running on Saturday, August 26th in the Red Lion, Bellevue. This is the first LARP that PAX has ever had, and our troupe intends to make it a good one. If you're going to be at PAX, please give them a try.
August 2006 Update
Next up for Dreams of Deirdre is Con-Quest 2006. We will be running two games: Stranded and Redemption. Check our Events page or Con-Quest's LARP schedule for updated information.
July 2006 Update
Lockdown was a success -- Devon would like to thank everyone who participated in his first LARP ever. Devon would also like to thank the entire DoD crew for chipping in during the end of the writing process and helping resolve some plot logjams which had occurred. Devon considers the game to have been a great learning experience.
KublaCon went well -- the LARP coordination team did a great job keeping everybody happy, and we would like to thank the convention for a wonderful time.
May 15, 2006
Lockdown is a go for KublaCon 2006. Devon is putting the finishing touches on the game even now. Click here to see the flyer.
Unfortunately there will be no posting of flyers at the convention, but we're looking for a way to get the word out somehow.
March 9, 2006
The Dukesport Tournament was a success! We filled the game, and engaged in much Pokethulhu mayhem. In the end, good won out over Team Leng. DunDraCon staff ensured that we had everything we needed, so despite our issues over their refusal of Redemption, our time at DunDraCon was just fine.
Wendy and Devon are teaming up to produce the game Dreams of Deirdre will run at KublaCon 2006: Lockdown.
Also, please accept our apologies if you visited the site between February and March and found the links not working.
January 23, 2006
Click here to get a peek at the flyer for "The Dukesport Tournament."
January 9, 2006
DunDraCon finalized their schedule, and the Dukesport Tournament, our Pokethulhu LARP, is confirmed for Friday. Check our Events page for more details.
Unfortunately, due in part to the influx of many new LARP submissions, DunDraCon was unable to schedule Redemption -- we plan to run that game at Con-Quest 2006.
Dreams of Deirdre is already looking ahead to KublaCon, so watch for updates on what we will be offering.
New Year's 2005 Update
Happy New Year, everybody! It has been a time of change for many of us, and we hope that your 2006 brings much fun, prosperity, and some great games!
Dreams of Deirdre will be running two games at DundraCon 2006: the Dukesport Tournament, a Pokethulhu LARP; and Redemption, a superhero LARP.
September 2005
Well, Con-Quest was an amazing and fun con for us, but due to sign-up snafus, not everyone had a great time.
If you did not enjoy the sign-up process, you can and should contact Matt Gaston matt@mcgames.com. While the problems at Con-Quest could be attributed to growing pain issues with the new management and NOT Matt specifically, he can take feedback from players and channel it into something productive like better, larger rooms and a consistent sign-up process. We've been assured that the process next year will be consistent, whatever it is. We also plan to offer a larger game next year (20-25 people).
The Con-Quest convention staff were as cool as ever, even if the food service was a little slow. Many of us thoroughly enjoyed ourselves in "The Butler Did It" by Joe Parzanese We also ran "The Five of Swords," which was the first (and possibly only) DoD LARP that David and Lori have ever played in together...according to Lori, "Wendy did an amazing job writing it, and Devon, Matt and Erik did a great job supporting the game."
That said, we were disappointed to hear that one of the four LARPs at Con-Quest did not fill, especially when the DoD LARP had people sitting in line to attend. We encourage our players to take a chance on other LARP troupes--without them, DoD doesn't get to play. And we love to play in games almost as much as we love to run them.
August 2005
We will be running a game at ConQuest 2005: "Five of Swords," set in the Changeling universe. Click here for more details.
June 2005
We had a great run at KublaCon this year. We ran "Something Wicked That Way Went," set at Hogwart's University in the "Harry Potter" universe. We saw some familiar faces, and some new ones, and had a very pleasant time. Thank you to all the players who made the game run so wonderfully!
Please join us at ConQuest 2005, where we will be running at least one LARP (more information to come).
September 19, 2004
We ran "Sacrifice" the second in our Lost Colonies science fiction series. Everyone lived, including the sacrifices, with a few mild exceptions among the evil priests. We played in many other excellent games (when we look back, it appears to have been one long blur of LARPing). And, we introduced a new idea, the "invitation" LARP, where tickets were given as prizes for good role players for all the other LARPs at Conquest.
The invitation LARP, "Asylum," took place in an insane asylum where one of the master super-villains had taken everyone hostage. Unfortunately, with some few exceptions (the evil mastermind, another not-so-mastermind, but definitely evil guy and his minions, two psychologists, two main heroes and another not-so-good guy), everyone died. You win some, you lose some. Asylum was particularly challenging because everyone had Amnesia, and remembered things in stages as the game progressed, meaning we had to create 4 character sheets (each with additional information) for each time everyone "remembered." Still, it appears to have worked well, and we may try the technique in another game.
Look for us at Dundracon, Norwescon, Kublacon and Avalon next year. Avalon is what Conquest is turning into; they are making a concerted effort to drive more LARPers to their convention, and we had a nice chat with the con director before we left on Monday.
We hope to update the site a little more frequently in the next year, so stay tuned. As always, thanks for making all this possible.
June 2004
We have the site back up! Dreams of Deirdre will be at ConQuest 2004 with a couple of games: "Sacrifice" and "Asylum." See our Events page for more details.
January 19th, 2004
We are gearing up for DunDraCon. The games will be starting later than most will be used to, and for that we are disappointed, but resolved. Against our natures, the team will do its best to remain awake, despite our yuppie metabolisms. We will likely have to resort to "sensible" shoes. Which we have. Make no mistake.
The group is pleased to offer two games at DunDraCon 2004. On Friday, we have "Winds of Despair," at 8 pm in room 156 for 6 hours. The LARP is based on the "Lord of the Five Rings" game.
On Sunday, we have "The Goblin Ball," starting at 9 PM in Salon B-C, lasting for 6 hours -- this game is dedicated to the memory of Anicka Michaelik, a dearly missed player who recently passed beyond the veil to that undiscovered country where, we are sure, she is making a great many people smile.
January 2004
Happy Belated New Year! Yes, we've actually updated the site! Dreams of Deirdre will be at DunDraCon 2004! Click on our Events page for more information. It is with great sadness that Dreams of Deirdre will offer our Changeling LARP at DunDraCon 2004 as a memorial to one of our favorite players.
February 18, 2003
> -- We survived, sort of. We ran our hearts out over the weekend and things went pretty well. Now we're paying the price. David and Lori can barely move, Wendy is more or less just stunned from the downer on her sugar/gaming high, and no one has heard from Devon or Erik. Matt, oddly enough, seems fine.
As indicated, the games went great. Well, there was the near riot outside Harbingers when people found out the game filled up in under 5 minutes. We spoke with the LARP coordinator and she indicated there might be some changes in sign up policy next year. If there aren't, we have a few clever ideas about how we might be able to improve things so that people don't yell at us next year. Also, we are officially implementing the rule: If you make a GM cry, you're banned for life. (It didn't happen, but it was a near thing.) Yelling at the GMs in general is a bad idea too. Preventing people from yelling at GMs/making them cry, however, is a good thing. And not just for us. If we aren't harassed/yelled at/made to cry before games, we tend to run better games.
We also got something of a surprise when we looked at the Kublacon preview schedule that was going around the con. Apparently, we're scheduled to run our Star Wars collaboration with Chuckling Cthulhu there, at 6 pm on Saturday. Needless to say, this came as something of a shock as we hadn't actually firmly decided to run at that con. It's all been cleared up now what happened, but we should let everyone know that it is only a tentative schedule and that we have not fixed that date yet for the game. We'll let you know when we have.
Oh, one last thing. In that post con haze that descends (where you simultaneously swear off running games for life and have a million and a half new game ideas) we came up with something we think you might like. We're discussing putting up a Cafe Press shop with some of Devon's most excellent artwork. While the actual items to be put in there are under discussion, some that we're thinking about include: t-shirts, posters of fliers from the past games, stickers, and panties. (Because we can.) More on this as things come together.
February 12, 2003
While we're not normally in the business of pimping, especially panels at cons, there are a couple you just really need to check out. Alex and Johanna from Chuckling Cthulhu are going to be giving two seminars there--Running a LARP, Some Hard Won Tips, and Creating Atmosphere For Your LARP. We can only presume that the second seminar is mostly focused on Sci-fi LARPs set in space (ba-dump ting). Our friend (and DoD game regular) Dave Webb is also running a seminar on Pulp games that's sure to be worth your time as well. Be sure to check them out.
In other Chuckling Cthulhu news, Alex will be our very special guest NPC for Night on Delancy Street, our Film Noir game this Friday night. This will be something of a preview of our upcoming collaboration with Chuckling Cthulhu, now tentatively scheduled for Kublacon this year. (Although we haven't talked to Johanna and Alex about this yet. Hi guys!).
Hope to see you at the con.
February 3rd, 2003
Couple minor notes. Just noticed that the Champions LARP didn't have it's name changed to Harbingers on our events page, so that's been fixed. Also, we just noticed that it's starting at 8 pm. While this web site's said it the entire time, we think the last email we sent out said 6 pm. Yes, this means we'll be ending at 2 am. Unfortunately, there's little we can do about it at this point. Sorry to all those who will be up past their normal bed-times (Note: That includes nearly the entire GMing staff). We'll just have to be more vigilant next year.
January 23rd, 2003
>-- We're all approved for Dundracon. The tentative schedule is up at their web site. Harbingers, our Dark Champions game, is up against a Cthulhu game and a Star Wars game. As Lori put it, "Don't let those other games tempt you. We're much better at temptation, come to our games." We're still trying to understand that fully, but suspect that by the time we do, it will be far too late. Regardless, come to both Harbingers and Night on Delancy Street. We'll make it worth your while.
December 18th, 2003
Big changeup for Dundracon this year. We've decided to put off our big collaboration with Chuckling Cthulhu until KublaCon. The reasons for this are dark and arcane, but basically boil down to Dundracon really not allotting much space to LARPs this year, and since World on the Edge is a huge game, we thought we might want to run it at a different local. On a side note, feel free to drop a polite note to the powers at be at DDC to ask that they assign more rooms for closed door LARPs in the future. Keep in mind that the LARP coordinator there didn't have any choice in the matter, so direct the letters higher up in the hierarchy.
Don't think we've left you in the lurch after all this. Not only are we running Night on Delancy Street, we're also going to move up our Dark Champions LARP, freshly titled Harbingers. Thus we keep the tradition alive of having one large LARP and one small at the con. (As opposed to one massively huge LARP and one small one.)
November 27, 2003
Lots of things happening, not many of them LARP related. Lori and David were married (despite every temptation, the invitations did not have stats and skills printed in them), and, well, since I'm David my brain has been wrapped so tight around the wedding stuff I have no idea what else happened. Suffice it to say, however, that we are working hard preparing for Dundracon. Night on Delancy street is all completed and World on the Edge now has a title, description, and two of the most talented plot and character writers in the world working on it. (That's Johanna and Lori. Fear them.) We've submitted both to the con, and they've had fewer LARPs submitted this year than before, so things look good. There's just one wrinkle with World on the Edge which could throw a wrench into the whole works. See, we're doing something complicated and clever with the room situation and that never helps. Hopefully we'll be able to pull it off. Only time will tell.
September 24, 2002
Not much new to report. Just added a link to Lori's live journal page. We thought you should know.
September 3, 2002
Well, the surprise was sprung and Shadows of the Past went off without a hitch. Thank you to everyone who showed up and made both of the games such a success. We were fortunate enough to have the LARP coordinator for Kublacon playing in the modern fantasy (oh, alright Tolkein) game, and the ConQuest coordinator would have but he was running a game at the time. It's good know we have fans in high places. Now all we have to do is get the LARP coordinator from Dundracon interested in our games and we'll have the full Bay Area Con Hat Trick (tm).
Speaking of Dundracon, writing and planning goes on full steam. Night on Delancy Street (the film noir LARP) is already in the can and is only awaiting a final proof reading. The as yet untitled Star Wars LARP we'll be running with Chuckling Cthulhu isn't as far along, but is doing very nicely, thank you very much. Other forthcoming games that are currently being written (but which we haven't figured out when to run) are a Kobolds Ate My Baby game and a dark Champions game. There are also rumors of another Sluagh Tea Party, a Witchcraft LARP, and other wacky adventures. We really can't stop ourselves. You'll hear more about these upcoming games as we figure things out.
September 1, 2002
Just a quick update. Con is going great, but some people asked where we found those great forms we used for the Paranoia LARP last night. Well, wonder no more. We found them on this wonderful site.
August 14, 2002
Yay widely spaced, incredibly sporadic updates. Well, Con-Quest has put up our rooms and times for con. Paranoia will be at 6 pm on Saturday (after the entire troupe helps one of our friends move, then drink a ton of soda, so you know it's going to be bizarre), and the Modern Fantasy LARP will be on Sunday at 6. For full details check out Con-Quest's web site. or our our events page. And, yet again, there's a new sign up procedure. For both games, sign up via the con. We will have a signup sheet at the door, but it will only be used if we don't have enough people registered via normal con means.
In even more fun news, things are progressing full steam ahead with our collaboration with Chuckling Cthulhu. Matt, Lori, and David met with Johanna and Alex to go over everything and much evil GM-like laughter was uttered. Suffice it to say that Star Wars is definitely the genre for this one. Or, at least the Universe. It's going to kick much ass. Fortunately, Lori and Johanna are going to write up 50 characters, so there should be plenty of slots. Likewise, the much smaller Film Noir LARP (Night on Delancy Street) was written some months ago, so is more than ready. Costumes are strongly encouraged for that event. Well, for the Star Wars game too, but not too many people have imperial uniforms just hanging around. Personally, I can't wait for Dundracon.
July 16, 2002
Only a brief update to let you know we're still alive and kicking. The most likely genre for our collaboration with Chuckling Cthulhu has now changed to Star Wars. I can't say much about it now, but if the plans we have on tap right now come to fruition it will be epic.
June 3, 2002
We've signed up for Conquest. We've asked for a noon time slot on Sunday for our Deirdre's Nightmare game, Return of the Clones, and we've asked for a 6 pm start time on Sunday for our DoD event, Shadows of the Past. For those of you running LARP's who wish to play in our games, DON'T schedule your LARPs for Sunday. We recommend that, when signing up for your LARP you include in the section "special requirements" at the bottom of the Conquest page that you don't want to be put simultaneous to a DoD event in order to maximize the possibility that you won't be. It's all a crap shoot -- those poor LARP coordinators only have a limited number of rooms and options to move things around, but the more information we give them, the likelier chance everyone will get what they want.
Sadly, we had to put in alternate time slots, as well as our preferred times. So for the DoD Shadows of the Past, I acknowledged the secondary time slot as 6 pm on Saturday, and for the Paranoia LARP I had to say 8 AM Sunday. Let us all get on our knees and pray that we do not have to run Paranoia early in the morning. In my opinion, Morning People get shot first in any game, and Paranoia's better equipped to deal with happy sunshiney people going down in the early AM much better than any other game system. But it may just be me.
May 29, 2002
I know it's impossible to believe, but we've updated the site twice in the SAME month. This is due to a) Lori's boredom b) new SIGN UP procedures for Conquest ) the desire to tell the loyal fans about our new spin-off, Deirdre's Nightmares and d) to let folks know how Kublacon went.
a) Lori's boredom. That's more of a misnomer, really. More like "engagement-catatonia." Pretty nasty stuff. Causes her to talk about herself in third person like her betrothed, David, and all manners of grimness.

b) NEW SIGN UP PROCEDURES FOR CONQUEST: Due to yet more confusion about signing up, the Conquest folks at Kublacon notified us that their LARPs will be through Pre-registration. Thus, if you wish to play in the Deirdre's Nightmare game or the DoD game at Conquest, you will need to pre-register. However, don't fret if you miss pre-registration. First, most LARPers (our loyal fans not-included) tend to flake and not sign up in advance. Second, we sometimes have "overflow" characters available. So, if you fail to pre-reg, look for our sign up sheet available outside the location of the LARP we are running 1 hour prior to the LARP being played. WE WILL GO BY THE CON'S PRE-REG SHEET FIRST, AND ANY OPENINGS AVAILABLE AFTER THAT (due to people not showing up or not having the entire game filled) WILL BE AVAILABLE TO THE PEOPLE ON OUR SIGN-UP SHEET. This is also how it will be for Kublacon next year; we'll update the site when we find out from Dundracon how they want to do this. NOTE: We WILL run at Conquest, we just haven't submitted our stuff yet.

c) Deirdre's Nightmares: It's no big news flash that the DoD regular troupe is full of weird and unusual people. However, our DoD games have gained a reputation for being thoughtful, serious, and complex mysteries and political games. We wanted an outlet for our natural weirdness, so we're creating a spin-off group called "Deirdre's Nightmares" which will allow us to run a little less mysterious, a little less political games that are just freaking bizarre. Our first trial run will be a Paranoia LARP (as yet untitled). To read more about the upcoming Deirdre's Nightmare's offerings, please go to the events page.

d)How did Kublacon go? Despite the problem with the sign-ups, Kublacon was, as usual, incredibly cool to us. We were a little weirded out by the tent, but our players were able to imagine it was a gothic mansion. I mean, it was terribly cold and it made weird phantom squeaking noises. So I guess that's close enough. The players seemed to have a great time. We saw a bunch of new faces as well as the old favorites. Lori really enjoyed writing the game, which was a bit more of a mystery than previous DoD LARP's, so it's distinctly possible this type of game will rear it's well-loved ugly head again.
May 20, 2002
We've just been alerted that there's a nasty rumor going around that Dreams of Deirdre will not be running at Kublacon. This is entirely false. We will be there, if not with bells on, at least with a game. We're aware that this site has lain fallow for quite some time, and frankly we blame David for this. Always goofing off and referring to himself in the third person, it's a wonder there's a site at all.
As for the game itself, it's entirely written and just needs to be cut and pasted, which will happen tomorrow night. It should be interesting, considering that we also discovered that Kublacon will have us in a tent. Um. Yea. Pretend it's a gothic mansion. This is theater of the mind after all.
In one last bit of random news, our own Lori and David have become engaged. Since they were both in the troupe to begin with, we don't believe that there will be any bizarre, Yokoesque influence on the group which will cause us to break up after several near surrealistic LARPS supposedly designed to expand the player's consciousness. Likely, they'll just be either disgustingly romantic with one another or overly hassled with wedding details and snap viciously at anyone nearby. Rumors that invitations to their wedding will include backgrounds and little skill cards are greatly exaggerated.
March 3, 2002
Well, we still don't have the pictures up from the past couple of runs--turns out some PhotoShop work will need to be done to appease the lawyers--but we do have our upcoming schedule for the next year. Check out the events page for the full schedule. Oh, and we've already been approved for Kublacon, along with the charming and talented Chuckling Cthulhu. They're a great group that we'll be collaborating with in the future, and they specifically requested a time slot that wouldn't conflict with our group, so we think you should definitely check out their game. In general, they rock.
Oh, and I added a link to the online comic that a good friend of Lori and David's has written. It, likewise, rocks.
February 20, 2002
We're back, and we survived Dundracon. We think. No one saw Matt after we ran Star Wars on Friday, and Lori just kinda sits around gibbering these days. All things considered, though, we'll chalk it up as a success. Disturbingly enough, though, we have a number of projects in the work for upcoming cons. While we're still firming up details, a couple we're working on are a collaboration with Alex and Johanna from Chuckling Cthulhu and a "second label" for running less serious games. More details on these things as we get them. All and all, though, it was a great con. They actually had our badges for the first time, and they managed to put the date switch on the errata sheet. I'll be putting up the pictures from the Changeling game (I forgot I had a camera at the Star Wars game) as soon as I get a chance, and as a special bonus, I found the pictures I took at the Lost Colonies game, oh so long ago. The files for the games will be going up soon as well. Now I'm going back to bed.
February 11, 2002
And with slightly less than a week before the con starts, they switched the dates of the games on us. Sigh. Needless to say a massive frenzy of publicity will go out in the vague hope that someone will actually show up to the right game. Sigh.
February 6, 2002
Well, it's been weeks and the Dundracon LARP coordinator has successfully ignored each and every email we've sent her about changing the times. So, we're buckling under and just taking the times and rooms they've given us (even though the room for the 25 person LARP is smaller than the one for the 15 person LARP. Because of the smaller room, and the fact that the Changeling LARP is scheduled for Friday--when there are typically less people--we've scaled it back to a 15-20 person game. We're officially in the program for 7:00, which means that the sign up sheet will be going up at 6:00. Remember, we're not taking any early sign-ups anymore, so if you want to be guaranteed of a spot, show up early. The same is true of the Star Wars game (and despite any lack of notice in their program, The Highest Bidder is a Star Wars game), we'll be putting up the sign up sheet an hour before game starts. Hope to see you all there.
January 24, 2002
We've got our times for Dundracon and they're...not quite what we wanted. They put the 20-25 person Changeling game on Friday at 7 pm, and the 10-15 person Star Wars game on Saturday at 7pm. Oh, and they put the Changeling game in a smaller room than the Star Wars game. Needless to say, we're trying to get the two games switched, but our luck with the Dundracon LARP coordinator has not been the best in the past. If we are able to switch them, it is unlikely that it will make it in to the official program. However, if you're signed up on our mailing list you'll get an email if we get them changed. Of course, we'll also post it here.
January 13, 2002
I updated all the links to the files from our old LARPs and added quite a few new ones as well. Aside from our own personal notes and observations, all the files for the games we've already run are now up. Oh, and the Sluagh Tea Party files are put safely away from prying eyes, as is appropriate.
We're still waiting for the exact times that our Dundracon games will run. The Star Wars LARP--The Highest Bidder--will run on Friday, either from 7:30 pm to 1:30 am or 8:00 pm until 2:00 am. The Changeling LARP--Dark Cloud Over Sunny Hill--will be sometime on Saturday. We're hoping that it's not before noon. Please, God, let it not be before noon. We'll post it here as soon as we have the exact times.
January 11, 2002
We're back! Our new provider is stable, we have a good way to update files, and everything seems to be in good shape just in time for Dundracon. Expect a flurry of activity in the next couple of weeks as the site gets updated and generally gussied up. We've also been accepted for Dundracon for both games. The Star Wars LARP will be on Friday, and the Changeling LARP will be on Saturday. Exact times will be posted on our events page as soon as I pry them out of Lori.
October 9, 2001
Apparently this is not so temporary. As you may have guessed, we're having difficulty with the new server. Crosswinds, our original server system, completely lost our pages again, so we're finding a new place to call home.
But more importantly, we're having a game, for free, for our faithful fans. It's a Civil War Cthulhu game that we hope to host ourselves (at a location to be disclosed later) on November 4th. For more information, hit our Events p age.
Other upcoming stuff...we're going to have another Star Wars LARP at Dundracon this year (we have not yet submitted the paperwork, so you won't find us on the site yet). We are also going to have a Changeling LARP. Our preferred mode would be Star Wars on Friday night and Changeling on Sunday, but we'll see what is in the benevolence of the LARP coordinator.
Speaking of LARP coordination, please accept our heartfelt apologies about the mix-up at Conquest. The con staff gave misinformation to our players, causing some of you to not be able to get into our Cthulhu game. We will find out what the procedure for sign up for DDC is (usually it's sign up an hour before the game) and post it officially on our site.
August 15, 2001
Taking over (temporarily I hope) for David in mastering the site and dealing with the mailing list, I have successfully sent messages to all our faithful without the nasty hindrance of a return at the end of any of the lines. My humble apologies, David would lash me if he weren't ill, but I'm sure someone in the group will be happy to step up to the task during one of our ultra-secret group meetings prior to the Con-quest Cthulhu extravaganza.
Speaking of which, "A Collection of Shadows" will be running on Sunday night at 6 pm in the Foster Room at the Hyatt Rickeys in Palo Alto.
Also, we'll be at two thirds strength for Con-quest, though David and I will be sending our support telepathically while we are at a friend's wedding that weekend. The rest of the crack team (that is, incredibly competent, not on illegal-drugs kind of 'crack') will be running the show having had some help writing and organizing from us before we leave. Please come and show your support.
On the subject of shows ("Wow, this chick is really verbose, when do you think David will be back?" "Hush, that's rude, dear,"), none other than our own Wendy Lo will be playing at the Britannia Arms Pub on August 18th in Cupertino with her band, Delicious Blue. If you're in Cupertino on Saturday night, you should go to the show! If you're not in Cupertino on a Saturday night, you should be! Cupertino is a fine town with excellent establishments, such as the Britannia Arms, where, in fact, Wendy and Delicious Blue will be playing Saturday the 18th.
More updates as time and sanity allow.
May 28, 2001
Welcome to the new site! After a lot of work it's back up and nearly identical to the original site, except that now we don't have to deal with Crosswinds any more. Kublacon has also past and the game seemed to be an unbridled success. I'll be getting the files for the game on line within the next couple days so you can see everything that was going on. Now we just have to get ready for Con-Quest.
May 22, 2001
Sorry for the long delay in updating the site. Things have been somewhat insane around here lately. There are two important bits of news, however. The first is that we were unable to change our scheduled time and we will be running at 8 pm at Kublacon. Caffeinate heavily, it's gonna be late. The other news is with our changing our address. I'm in the process of doing that now, but we hit a snag the other day, and I haven't had a chance to finish things up. This site will be changed to all redirects so that no one gets left behind. There, now that that's done, I can say that Lost Colonies is done and looks really great. We're all revved up and ready to run, so we'll see you guys at Kublacon!
March 24, 2001
The first message went out on the mailing list tonight. I know, it was a bit later than I had originally planned, but events conspired against it going out on Friday. Well, events and some tequila. Regardless, you should have gotten some sort of message now. If not, go here and sign up.
March 21st, 2001
Due to problems with Crosswinds, we will be changing our web host soon. Not to worry, however. We will be putting up redirects when everything is set up. We are also looking in to getting our own domain name, so look for www.dreamsofdeirdre.com soon. Oh, and due to some house guests being over (and some rolling blackouts) I haven't had a chance to send off anything on the mailing list yet. It will be coming soon.
March 19th, 2001
The new mailing list is set up. I'll be adding in the list of people we gathered at Dundracon and sending out a message tonight. If you don't get anything by Friday, please send us a note. If you didn't sign up on the list at Dundracon, you can add yourself here.
March 12th, 2001
Not much of an update today, but we're just now beginning the gearing up for Kublacon. For those who've asked, the mailing list is still being set up, and I didn't want to send out a spam-like mail which just said that the list existed, when in fact it doesn't quite yet. As for this site's update, I added a few definitions in and tried to clean up the events page a bit. As I said, not much, but I just wanted to let people know we're still around.
February 26th, 2001
Despite our webmaster being down with what can only be described as the Venusian death flu, we've put up the story behind our name, as it were. You can read the whole tale here.
February 21st, 2001
Second Update -- We've been officially accepted at Kublacon. That's the good news. The bad news is that they have us up on their official site at 8pm, again, with the promise that they'll try to move us to the 6pm slot (we start getting tired around midnight). These guys seem really eager to help us out though and we're guessing that they'll get the time change into the official schedule so we won't have another snafu like we did at Dundracon.
February 21st, 2001
Well, we're back from Dundracon (and have access to the web site. again--don't ask). Things couldn't have gone better. Well, David could have skipped saying the word "vampire" and things would have been better, but other than that, they were swell. The files from the games are up in the events section, so you can see what was actually going on. As if that wasn't enough, we're also going to be running another game at Con-quest. Information on that as it develops.
February 7th, 2001
Matt proofread the character sheets. Apparently, it's "bantha poo-doo," I stand corrected.
February 1st, 2001
Well, our submission to Kublacon is in. Now we just have to see if they like it. Information about that LARP is found, as always, on our events page.
January 31st, 2001
Second Update -- We just received notice from the Dundracon staff that we'll be able to start Last the Night at 6 pm. The timing will be a bit tight with the bazaar, which has the space before us, but we'll be there at 6, ready to run!
January 31st, 2001
Due to some minor scheduling conflicts, we're currently in contact with Dundracon about getting the time for Last the Night changed. We're trying to start at 6:00 pm on Sunday instead of 8:00 pm. Looking at the schedule, it shouldn't be a problem, but we have to wait and hear from them. Also, if you're planning on attending Season of the Witch, try and show up early. As soon as we get the 12 people, we're going to start. The hope is that we'll be able to go from 8 pm to midnight and have a discussion afterwards since things are timed in the game to end at midnight.
January 30th, 2001
The rules we run our games by are online again, just look on the events page. They're slightly different than when you last saw them, but the rules themselves are the same. The writing portion of Last the Night is nearly complete (and let me tell you, we've never been so proud as when we were able to work the phrase "bantha foo-doo" into a character sheet), and Season of the Witch is going through a final proofreading, so everything is proceeding according to schedule. Things should be all ready for Dundracon.
January 26th, 2001
Well, we got our rooms and times for Dundracon, and, frankly, they could be better. Season of the Witch is running from 8pm to 2am on Friday night, while Last the Night (the Star Wars LARP) is running at the same times on Sunday. Keep an eye out for a room change with Last the Night too. Right now they have us slated for a suite, which we believes means just a couple small rooms. We're not sure that they realize that we're a closed door LARP. Needless to say, we're trying to get ahold of them as we type this to get things straightened out. Still, we have rooms, times, and a game, that's all we'll really need.
January 23rd, 2001
We finally got the descriptions of the upcoming LARPs into place. We also got together and decided what game we're going to run for Kublacon. While another Changeling LARP was high on most everyone's list--we'll probably run one at Dundracon 2002--this one seemed to capture everyone's imagination. It's set in a universe that David came up with a few years back where space colonies have been abandoned by Earth and left to grow on their own. After two hundred years, they manage to contact one another, but find that Earth has vanished entirely. We'll be using our standard rules set for it, and it should be a lot of fun. We'll give you more news on it's status as things develop.
January 19th, 2001
> -- Things are more or less back in place aside from the official descriptions of our next two games and about half the definitions (oddly enough, we were able to recover the one on Rock, Paper, Scissors from going to Yahoo and typing it into the search engine--our page, with the old definition came up. We are your source for Rock, Paper, Scissors information). Fortunately, Lori has the LARP descriptions, and we'll be able to put them up quickly. The remaining definitions are more or less gone for good. Oh, and we paid the extortion that Crosswinds was demanding, so those popup ads should be disappearing shortly.
January 18th, 2001
Well, the web site.'s back up, finally. Apparently Crosswinds, our web provider, had some problems with their storage devices and our web site. was lost. Actually all accounts that began with D were lost. And a few other letters. Fortunately, we had a backup. Sadly, however, the backup was chiseled in stone sometime in the Mesozoic era and has since been co-opted as a religious artifact by a small tribe in southern Madagascar. We'll be trying to update things as best we can while fighting off the occasional attacks from religious fanatics.
January 15th, 2001
We officially got in to the 2001 Dundracon. We'll be events 97 and 115, although we have no idea at this time when or where we'll be running. No doubt this information will be provided when the schedule comes out on their web site.